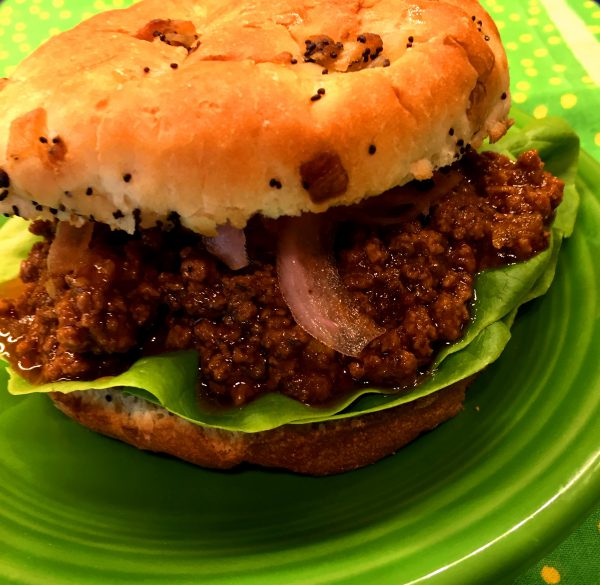 From Cheryl's upcoming book Texas Slow Cooker coming October 1, 2017! Click to find Cheryl's complete collection of Exciting Cookbooks
Sloppy Joes can make great game day food, whether you are tailgating or watching at home. Make sure that you have sturdy plates (no cheapo paper numbers here) and decent napkins, and you're good to go. If you can't easily come by dill seed, it's ok to use dill weed instead. Either adds an interesting note to the ground beef mixture.
Cooking Time: 7 to 8 hours on low, 3½ to 4 hours on high, can be held on warm up to 2 hours
Serves 8
---
2 tablespoons bacon drippings or vegetable oil (divided use)
1 medium onion, chopped fine
1 large celery stalk, chopped fine
4 plump garlic cloves, minced
2 pounds lean ground beef
1 tablespoon dill seed, 2 teaspoons dried dill
1 teaspoon chili powder
1 teaspoon kosher salt or coarse sea salt
Two 8-ounce cans tomato sauce or one 15-ounce can tomato sauce
2 tablespoons yellow mustard
2 tablespoons cider vinegar or white vinegar or brine from a jar of dill pickles
1 or 2 tablespoons packed brown sugar or turbinado sugar
1 tablespoon Worcestershire sauce
½ teaspoon Maggi sauce or 1 teaspoon soy sauce
8 soft hamburger buns
---
Generously grease the inside of the slow cooker with about 1 teaspoon of the bacon drippings.
In a large skillet, warm the remaining bacon drippings over medium heat. Add the onion, celery, and garlic, and saute for a couple of minutes until just beginning to soften. Add the ground beef, dill seed, chili powder, and salt, and fry until the beef has lost its raw color. It does not need to be thoroughly cooked. Break up any large pieces with a large wooden spoon or spatula as it cooks. Scrape the mixture into the slow cooker. Pack down evenly. Pour in the tomato sauce, mustard, vinegar, brown sugar, Worcestershire sauce, and Maggi sauce over.
Cover and cook on the low heat setting for 7 to 8 hours or on high for 3½ to 4 hours.
Spoon Sloppy Joe mixture onto buns and serve.