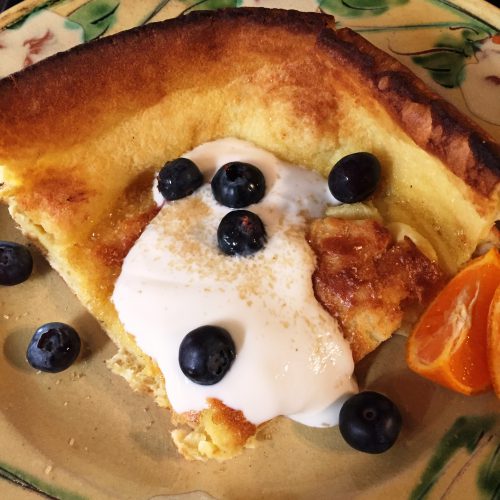 From A Real American Breakfast. Click to find this and Cheryl's complete collection of Exciting Cookbooks.
For return on taste relative to effort, few breakfast dishes match Dutch babies, a poofy oven-baked blend of pancake, omelet, and popover. Variations on the theme reached a national audience through major twentieth-century cook­ books with a central European heritage, including Inna Rombauer's early editions of Joy of Cooking. They are also known as German pancakes, a name that's more appropriate perhaps but a lot less cuddly.
SERVES 2 to 4
---
¾ cup unbleached all-purpose flour
1 tablespoon sugar, optional
½ teaspoon salt
4 large eggs
¼ cup whole milk
2 tablespoons unsalted butter, melted
Confectioners' sugar Lemon wedges
Fruit preserves or jam, optional
---
Preheat the oven to 450°F. Generously butter a 1O-inch skillet.
Whisk the flour, sugar if desired, and salt together in a medium bowl. Add the eggs and milk and whisk until well combined. Add the butter and whisk until it disappears into the batter.
Pour into the prepared skillet and bake for 15 to 18 minutes, until puffed and golden. Serve the Dutch Baby immediately, cutting with a knife or spoon into 4 wedges. (They will deflate as they cool.) Dust each portion with confectioners' sugar and garnish with lemons for squeezing over the top. Add a spoonful of preserves to the baby if you wish.