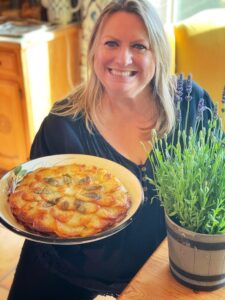 Join me on my annual weeklong small-group culinary adventures in the South of France, either near St. Remy in Provence (June) or Marseillan on the Mediterranean in Occitanie (September!).
I'm a lifelong Francophile. Many decades ago, as a college student studying art in Salzburg, I used my Eurail pass to zip many places around the Continent, including France's Mediterranean coast. Hopping on and off of that coastal train made an outsized impression on me. I was awed by the sea, the scenery, the architecture, and the food. Oh, that food. Even on a college student's budget, I was able to enjoy so many area specialties—pissaladiere, socca, salads niçoise, bouillabaisse, and more. I had grown up in a home where food was important, but these travels substantially broadened my sense of culinary adventure and my palate.
I reveled in this world of travel and food, and made many subsequent trips back to France, for schussing down alpine ski runs, discovering scores of Les Plus Beaux Villages, laying on the warm sands of St. Tropez, sampling wine and Armagnac, and eating, always eating. Through a good bit of serendipity, I met a Dordogne-based couple who hosted culinary weeks organized by chefs and cookbook authors. That led to an invitation to bring groups to that magical part of southwest France, which I did for a decade. Eventually, the local hosts decided to sell their estate and get out of the tour business. I'm delighted that I met a new tour partner recently, Nancy McGee, Founder and CEO of Absolutely Southern France. As a part of these weeklong trips, we schedule hands-on cooking classes three afternoons, eating the meals we prepare, then enjoying the area sites, and experiencing markets, restaurants, and tasting all that the region is known for on other days. Check out the link below to review all of the activities included and the pricing and lodging. If you too are excited about food, I hope you'll join an upcoming trip.
https://absolutelysouthernfrance.com/small-group-tours/