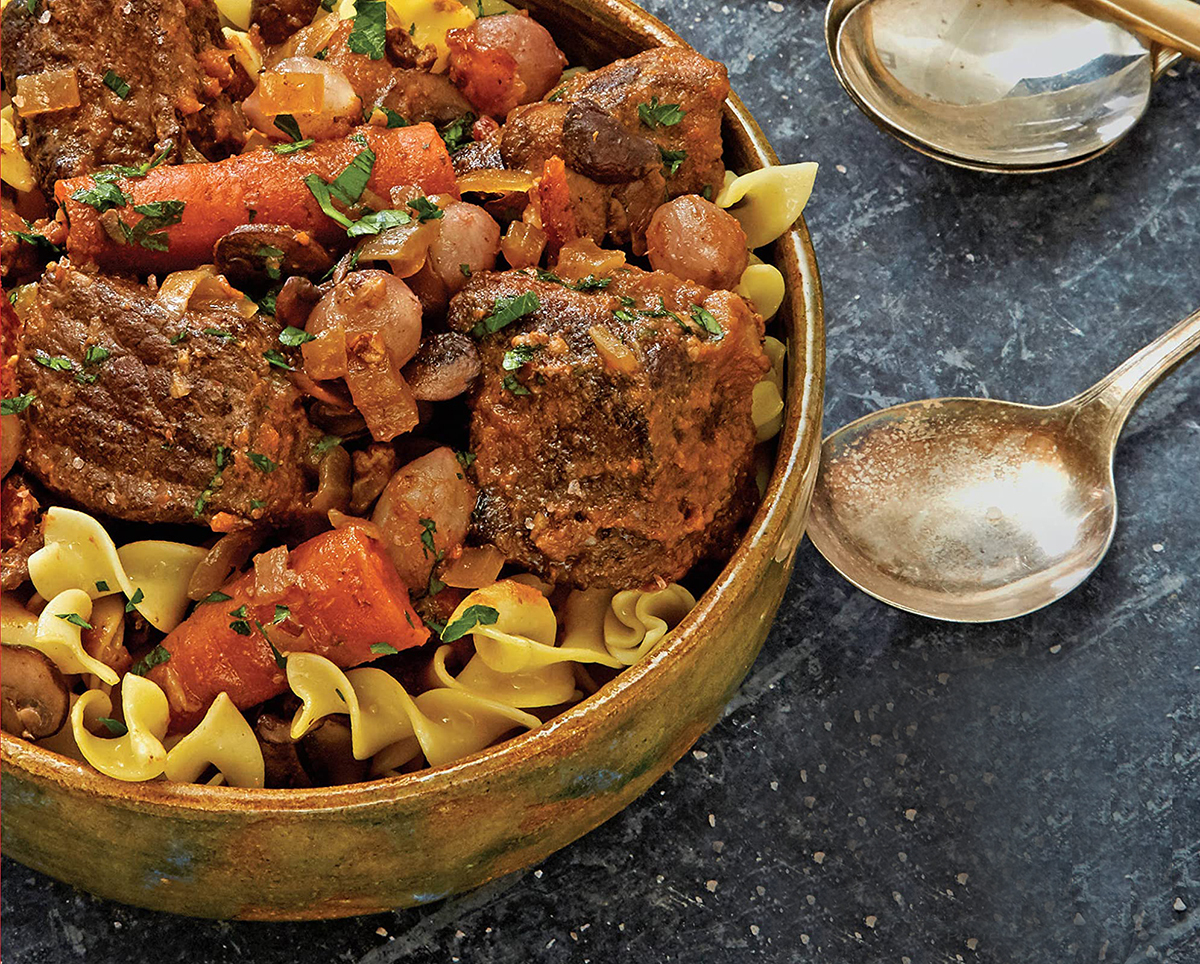 Beef, Red Wine, and Red Chile Stew
The recipe's a bit more involved than some for the slow cooker, but it pays off in big flavor, and much of it is hands-off time. It makes enough to serve a whole party over noodles or with mashed potatoes, and leftovers are outstanding.
Cooking Time:
8 to 9 hours on low, 4 to 5 hours on high, can be held on warm for several hours
—
Serves 8
Vegetable oil spray
6 ounces thick-sliced bacon, chopped
3 pounds boneless beef chuck, cut in 2-inch cubes
3 tablespoons unbleached all-purpose flour
3 cups dry red wine (divided use)
2 cups low-sodium beef broth
3 cups chopped onions
6 medium carrots, cut in 2-inch lengths
3 plump garlic cloves, minced
¼ cup ground dried mild or medium New Mexican red chile
1 tablespoon tomato paste
1 teaspoon dried thyme
2 bay leaves
2 teaspoons kosher salt or coarse sea salt, or more to taste
2 tablespoons unsalted butter
2 cups frozen pearl onions, unthawed
¾ pound cremini mushrooms or button mushrooms, sliced thickly
½ cup chopped Italian flat-leaf parsley
—
1. Generously spray the inside of the slow cooker with oil.
2. In a large heavy skillet, fry the bacon over medium-low heat until brown and crisp. Remove the bacon with a slotted spoon and transfer it to the slow cooker. Turn the heat up to medium-high. In the bacon drippings, brown the meat, about one-third of it at a time. Turn on all sides as needed, then transfer to the slow cooker. When the third batch of beef is mostly browned, sprinkle in the flour, and cook for a couple of additional minutes. Pour in about ½ cup of the wine, and scrape the mixture up from the bottom of the pan. Scrape into the slow cooker.
3. Add 2 more cups of the wine, and the broth, onions, carrots, garlic, tomato paste, thyme, bay leaves, and salt. Cover and cook on the low heat setting for 8 to 9 hours, or for 4 to 5 hours on high. The beef should be very tender and the onions and carrots mostly dissolved into the sauce.
4. In large heavy skillet, warm the butter over medium heat. Stir in the mushrooms and cook for several minutes until limp. Add the pearl onions and cover the skillet for 5 minutes. Uncover and pour in the remaining ½ cup wine. Cook several minutes more, until the onions are tender and the wine has reduced somewhat. Transfer to the slow cooker and stir well.
5. Discard bay leaves, add more salt, if you wish. Spoon into shallow bowls, scatter each with parsley, and serve.
---
For more slow cooking recipes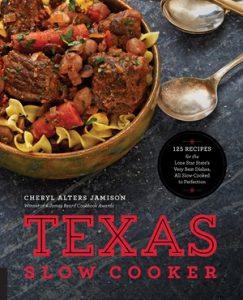 Beef, Red Wine, and Red Chile Stew
is adapted from TEXAS Slow Cooker
and given a New Mexico twist.
It is available online from the
Santa Fe School of Cooking