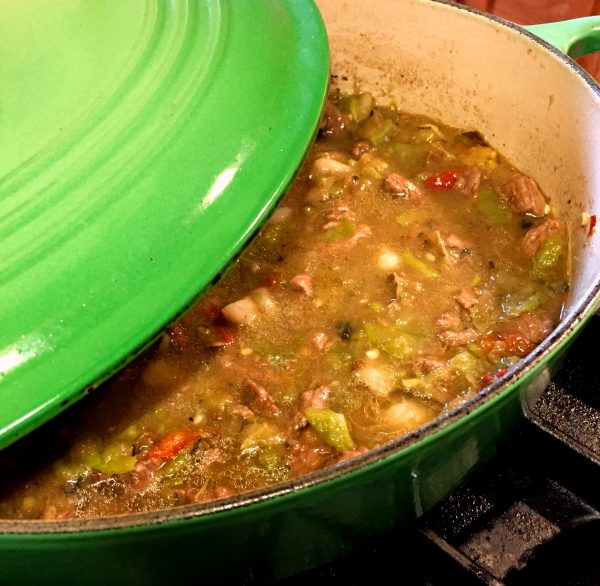 From Tasting New Mexico. Click to find this and Cheryl's complete collection of Exciting Cookbooks
A bowl of comfort, green chile stew always strikes us as much greater than the sum of its humble parts. Like many dishes featuring green chile, this rose in popularity substantially after home freezing of food extended the lifespan of green pods beyond their short season. Some cooks add thickeners like cornstarch or flour or use baking potatoes that yield the same result when they partially crumble and dissolve during cooking. In our view, the stew is amply hearty without thickeners, needing nothing more with it than a stack of warm flour tortillas or squares of corn bread.
Serves 8
---
1½ to 1¾ pounds beef chuck or pork butt (shoulder),cut in
½-inch cubes
2 medium onions, diced 4 garlic cloves, minced
1 to 1¼ pounds red waxy potatoes, peeled or unpeeled, and diced
5 cups beef or chicken stock
1½ tablespoons salt, or more to taste
3 cups chopped roasted mild to medium New Mexican green chile, fresh or thawed frozen
1 cup corn kernels, fresh or frozen, 1 cup carrot chunks, or 1 diced red bell pepper, optional
---
Sear the meat in a Dutch oven or large heavy saucepan over medium-high heat until it browns and liquid accumulated from the meat mostly evaporates. Stir in the onions and garlic and cook for several minutes, until the onions become translucent. Pour in stock and scrape the mixture up from the bottom to loosen browned bits. Sprinkle in the salt, reduce the heat to a low simmer, and cook uncovered for 1¼ hours.
Stir in the chile and any of the optional ingredients and continue cooking for another 45 minutes to 1 hour, until the meat is quite tender, the vegetables are soft, and the flavors have blended
Ladle into bowls and serve
Working ahead: Like many stews, this becomes especially nice when made a day or two ahead. Simply reheat and serve.
Variations: Molly Manzanares, co-owner of Shepherd's Lamb in Tierra Amarilla, makes  stew  with  her  delectable  pasture-raised lamb. As you  might  guess, her  stew is richer in  meat  than  our  version  and  relegates  other  ingredients  to  a  support role.To 1 pound of lamb  stew  meat, Molly  uses  ¼  cup  of  both  onion  and  green chile,  and  a  medium  tomato  or  potato  depending  on  the season.