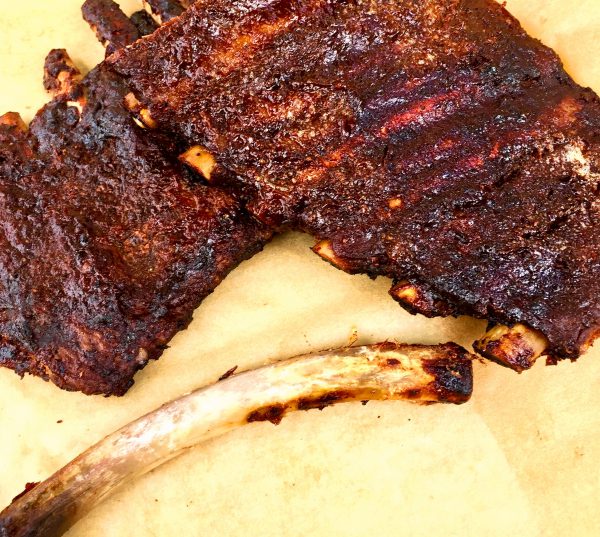 From Smoke & Spice. Click to find this and Cheryl's complete collection of Exciting Cookbooks
In Kansas City, Memphis, and other rib capitals, most barbecuers cook in a "wet" style, applying a sauce near the end of the cooking and again before serving. In Texas, where people love to be contrary, the ribs are often left "dry," as they are here.
Serves 6
---
BARBECUED RIB RUB
⅓ cup freshly ground black pepper
¼ cup paprika
2 tablespoons sugar
1 tablespoon kosher salt or coarse sea salt 1 tablespoon chili powder
1½ teaspoons garlic powder
1½ teaspoons onion powder
3 full slabs pork spareribs, "St. Louis cut" (trimmed of the chine bone and brisket flap), preferably 3 pounds each or less
BASIC BEER MOP (OPTIONAL)
12 ounces beer
½cup water
½ cup cider vinegar
¼ cup vegetable oil
½ medium onion, chopped or sliced in thin rings 2 garlic cloves, minced
1 tablespoon Worcestershire sauce
---
The night before you plan to barbecue, combine the rub ingredients in a small bowl. Apply about half of the rub evenly to the ribs. Place the slabs in a plastic bag and refrigerate them overnight.
Before you begin to barbecue, take the ribs from the refrigerator. Pat them down with the remaining rub, reserving 1 tablespoon of it if you plan to use the Let the ribs sit at room temperature for 30 to 40 minutes. Prepare the smoker for barbecuing, bringing the temperature to 200°F to 220°F.
If you are going to baste the ribs (see page 45, "To Mop or Not"), mix the mop ingredients with the reserved 1 tablespoon rub in a large saucepan. Warm the mop liquid over low
Transfer the meat to the smoker. Cook the ribs for 5 to 6 hours, turning and basting them with the mop about once an hour in a wood burning pit, or as appropriate in your style of smoker.
When ready, the meat should be well-done and falling off the bones. Allow the slabs to sit for 10 minutes before slicing them into individual ribs.
BBQ tip We suggest different cooking times for our  various rib recipes, but you may want to adjust the times for your taste. Spareribs  are  usually done in 3½ to 4 hours, when you can crack them apart with a gloved hand. At that point the  meat is firm, chewy, and juicy. If you prefer the ribs crunchier, leaner, and falling apart, as we do with "dry" styles, cook them longer, about 8 hours for a larger slab.  If you like super-tender ribs, cook them for 5 hours in the "naked-foiled-naked" style that barbecue teams call 3-2-1: Cook for 3 hours in the smoker as described in our recipes, then wrap in foil and return to the smoker for the next 2 hours for the meat to steam and simmer, then unwrap and continue cooking naked for about 1 hour more so the ribs' surface will get crispier and chewy in spots.