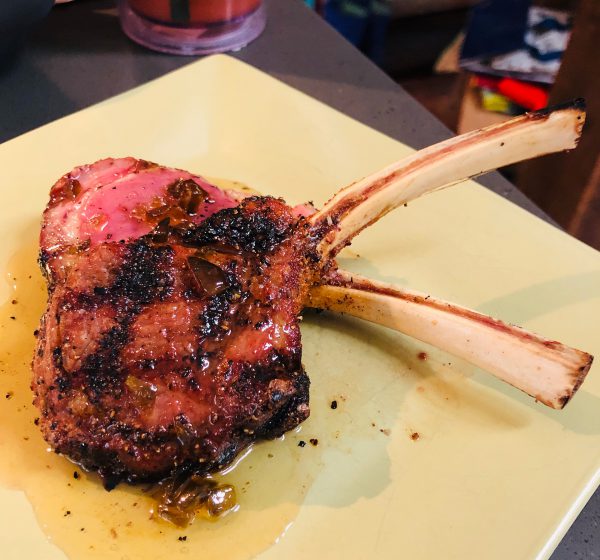 Lamb Rib Chops with Jalapeño Jelly
From Perini Ranch Steakhouse: Stories and Recipes for Real Texas Food. The equivalent of beef prime rib, frenched lamb chops are cleaned of fat on the rib bones, making them easy to pick up and eat with your fingers. Cover them with steak rub and once nicely charred, serve with jalapeño jelly. Lamb can be graded with the same designations as beef, but it's done much less often because lamb has greater consistency in quality. The Perinis prefer to buy lamb that hasn't been shipped frozen from the other side of the world, since there's plenty of delicious meat available from American ranchers.
Serves 6
---
Steak Rub
2 tablespoons kosher salt
1 tablespoon plus 1 teaspoon coarsely ground black pepper
1 tablespoon plus 1 teaspoon garlic powder
1 teaspoon sweet paprika
6 double-cut frenched lamb chops
Jalapeño jelly, warmed
---
Prepare the rub, combining the ingredients in a small bowl.
To make the rub, combine the salt, pepper, garlic, and paprika in a bowl. Massage each chop generously with the dry rub. Let the chops sit at room temperature for 30 minutes.
Fire up the grill for a two-level fire capable of cooking first on high heart (1 to 2 seconds with the hand test) and then on medium (4 to 5 seconds with the hand test). For best flavor, if cooking over gas or charcoal, add a half-dozen mesquite chunks to the fire shortly before placing the chops on the grill.
Grill the chops over high heat for 1½ to 2 minutes per side. Move the chops to medium heat, turning them again, and continue grilling for 3 to 3½ minutes per side for medium-rare. Serve immediately, with a good spoonful of jelly on each portion.