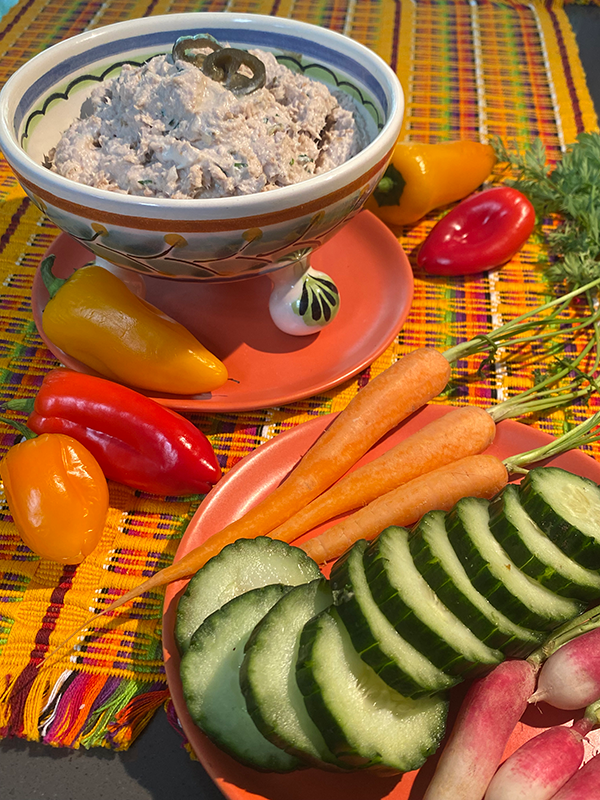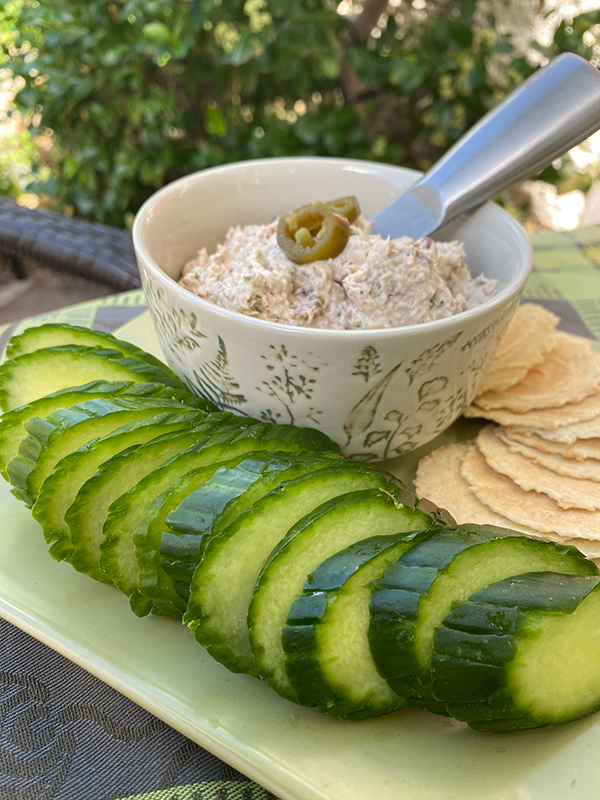 I think we all love having easy show-stopping recipes for summer entertaining. Port Aransas Tuna Dip is one of those. However, it's something of a sleeper from my book, TEXAS Q. It's funny, because when my late husband Bill and I wrote SMOKE & SPICE on barbecue back in the 1990s, readers quickly picked up on a recipe for a smoked trout spread. It became one of our most popular recipes ever.
When I discovered this smoked tuna dish on the Texas Gulf coast, I knew it had the same appeal. Somehow though, it's been overlooked by readers and reviewers, perhaps since there's not a photo of it in the book. And maybe the book's art director made that call because it's kind of beige on its own. Just place it in a pretty bowl, though, and brighten it up with fresh produce. Everyone I serve it to raves about it, so I thought it would be one all of you would enjoy too.
Unlike many barbecued recipes, it cooks in minutes, rather than hours. You can make the tuna in any kind of smoker but, because of the quick cooking time, I often use a stovetop smoker, or covered grill with wood chunks added. Even if you normally prefer tuna steaks cooked very rare, the texture of the dip is best if the fish is fully—if barely—cooked through. A somewhat thin steak will absorb more smoke.
Port Aransas Tuna Dip Recipe
Makes about 2 cups
8- to 10-ounce tuna steak, preferably cut about ½ inch thick
Kosher salt or coarse sea salt
Dip
1 cup mayonnaise
1 minced pickled jalapeño
2 tablespoons minced onion
2 tablespoons minced parsley
½ teaspoon soy sauce
¼ teaspoon ground white pepper
Cucumber or zucchini rounds, radishes, lavash, or other crackers
Prepare the smoker for barbecuing, bringing the temperature to 200°F to 225°F. If you are smoking at a slightly higher temperature, in a stovetop smoker or covered grill for example, just subtract a few minutes from the cooking time.
Sprinkle the tuna evenly with the salt on both sides. Transfer to the smoker as far from the heat as possible. Cook the tuna for about 45 minutes. When done, it will be firm and no longer pink.
Cool the tuna briefly. Chop the tuna finely, with a chef's knife rather than a food processor. You want a bit of texture. Transfer to a bowl, and stir in the dip ingredients. Refrigerate for at least 1 hour for the flavors to mingle. Serve with vegetables or crackers or both.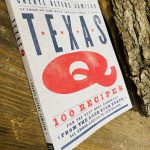 Port Aransas Tuna Dip Recipe
is found in TEXAS Q and
available online from the
Santa Fe School of Cooking