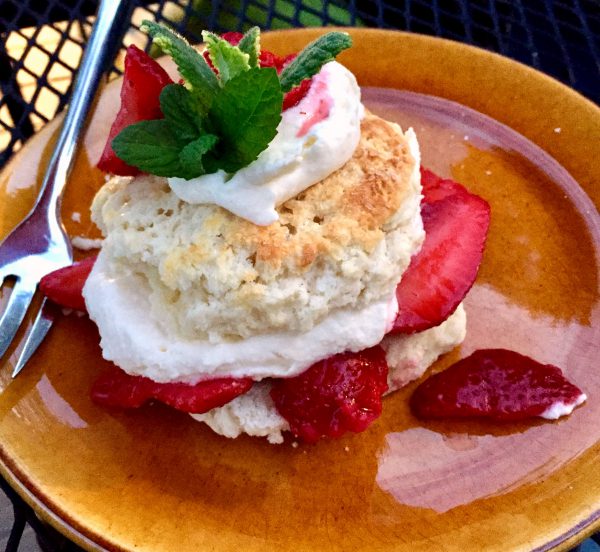 From American Home Cooking. Click to find this and Cheryl's complete collection of Exciting Cookbooks
Good fresh berries certainly contribute to the success of this dessert, but what most people get wrong is the shortcake. The biscuit pastry should rise high and crumble grace­ fully into a medley of tastes with the strawberries and cream. For us, sponge cake doesn't wash. The all-American combination seems to date from the mid-nineteenth century, but it rose in popularity in tandem with the use of baking powder.
SERVES 6 TO 8
---
BERRIES
5 cups halved strawberries, or 3 cups halved strawberries with 2 cups raspberries, blueberries, or blackberries
3 tablespoons sugar or more to taste
SHORTCAKES
2¾ cups unbleached all-purpose flour
2    tablespoons sugar
1½ tablespoons baking powder
1    teaspoon salt
¼   cup vegetable shortening, well chilled
2    tablespoons unsalted butter, well chilled
1    cup buttermilk
1    teaspoon pure vanilla extract
WHIPPED CREAM TOPPING
1½ cups whipping cream, well chilled
2    teaspoons pure vanilla extract
2    tablespoons sugar or more to taste
---
Stir together the strawberries with the sugar, mashing them very lightly with a fork to help release the If you are using a portion of the other berries, keep them separate for now. They are best added to the strawberries shortly before serving so that they will hold their shapes. Let the berries sit at room temperature while you prepare the shortcakes and whipped cream topping.
Preheat the oven to 450°F.
Sift the flour, sugar, baking powder, and salt into a large bowl, preferably a shallow Cut the shortening and butter into small chunks, and add them to the dry ingredients. Combine with a pastry blender just until a coarse meal forms. Make a well in the center and pour in the buttermilk and vanilla. With your fingers and a few swift strokes, combine the dough just until it's a sticky mess. Turn out onto a lightly floured board or, better, a pastry cloth. Clean, dry, and flour your hands. Gently pat out the dough and fold it back over itself about a half-dozen times, just until smooth. (A dough scraper helps greatly with this.) Pat out a gain into a circle or oval about ¾ inch in thickness. Cover the dough lightly and refrigerate it for about 20 minutes.
Cut the dough with a biscuit cutter, trying to get as many shortcakes as possible, since the dough toughens if it's You should be able, with practice, to get about eight 3-inch biscuits or six 3½-inch biscuits from the dough. Make your shortcakes with a quick, clean, straight-down push on the cutter. If you twist the cutter, as seems to be a natural motion for many people, it twists the dough, resulting in an uneven shortcake. Bake the shortcakes in the center of the oven, turning the baking sheet around once halfway through the baking time. Bake 3-inch shortcakes for 10 to 12 minutes total and larger shortcakes for 12 to 15 minutes, until raised and golden brown.
Prepare the topping, beating together the cream with the vanilla and sugar with a whisk or in a chilled mixing bowl with chilled beaters over medium-high Beat the cream only until soft peaks form.
If you are using another variety of berries with the strawberries, gently stir them into the strawberries
Split a shortcake in half and place the bottom portion in a broad shallow bowl or on a dessert Spoon several tablespoons of fruit and juice over it. Spoon on a dollop of whipped cream. Place the shortcake top over the cream and add another layer of berries and whipped cream. Repeat with the remaining shortcakes, berries, and cream, and serve immediately.