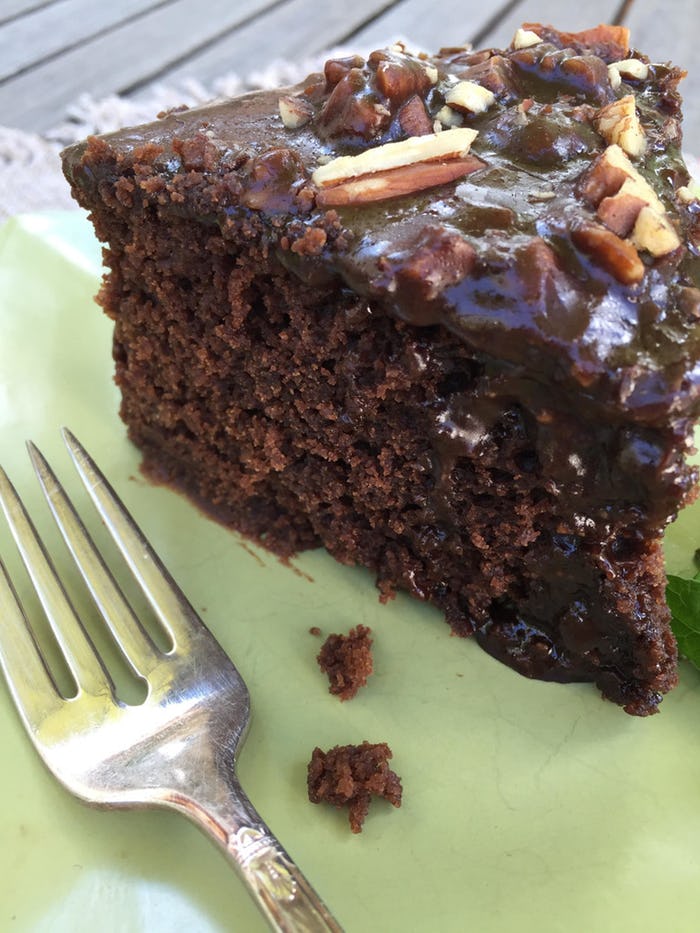 Slow Cooker Chocolate "Sheet" Cake
From Cheryl's TEXAS SLOW COOKER. Click to Order Your Copy today!
Found at every bake sale and potluck and quite a few birthdays, Texas sheet or sheath cake shares some similarities to the more complicated and equally popular German chocolate cake. Usually a simple, one-bowl, one-layer, sheet cake has an easy icing too. The cake typically includes a couple of traditional Texas ingredients—
buttermilk and pecans—but it is thought to have the Texas name bestowed on it because of its usually hefty size.
This slow-cooker version lost its "big as Texas" sheet pan look but gained extra moistness, even with a reduction in the standard amount of butter. I like to add a little cayenne for an elusive zip, but you can leave it out, if you wish. The dead-simple icing, or sheathing in olden-day terms, is poured over the cake while both are warm.
yield: serves 8 or more | cooking time: 2 to 2½ hours on high
---
¾ cup (165g) unsalted butter
½ cup plus 1 tablespoon (48g) cocoa powder
1 cup (235 ml) buttermilk or plain yogurt
½ cup (120 ml) water
2 teaspoons (10 ml) pure vanilla extract
2 cups (250g) unbleached all-purpose flour
1¾ cups (350g) sugar
1 teaspoon baking powder
¼ teaspoon salt
¼ teaspoon ground cayenne (optional)
Icing
¼ cup (55 g) unsalted butter
2 tablespoons (10 g) cocoa powder
1½ – 2 tablespoons (7 to 28 ml) half-and-half or whole milk
½ teaspoon pure vanilla extract
1 cup (120 g) confectioner's sugar
Pinch of salt
⅔ cup (73 g) chopped pecans
---
Pour 1/2 inch of water into a 5- to 6-quart slow cooker. An oval one works particularly well for this. To hold the baking pan above the water, place a 3-inch round biscuit cutter in the center of the slow cooker. Otherwise, roll up an 18-inch piece of aluminum foil, from one of its long sides, into a snake. Then bend the foil into a coil to fit in the bottom of the slow cooker. Place this aluminum foil rack in the bottom of the slow cooker. The water should be below the level of the rack.
Butter a high-sided 6- or 7-inch round cake pan.
Melt the butter in a large heavy saucepan over medium heat. Remove the pan from the heat. Stir in the cocoa with a flat whisk or large spoon, eliminating all lumps. Mix in the buttermilk, water and vanilla. Stir together the flour, sugar, baking powder, salt and optional cayenne. Mix them into the chocolate mixture.
Pour batter into the prepared cake pan. Set the cake pan in the slow cooker. Cover and cook on High for 2 to 2 1/2 hours, until a toothpick inserted into the center comes out clean. Turn off the slow cooker and let the cake sit in it for about 30 more minutes.
While the cake is still sitting in the slow cooker, prepare the icing.
Run a thin knife around the cake and turn out onto a baking rack. Spoon the warm icing over the cake. Slice into wedges to serve right away, or cool to room temperature before cutting.