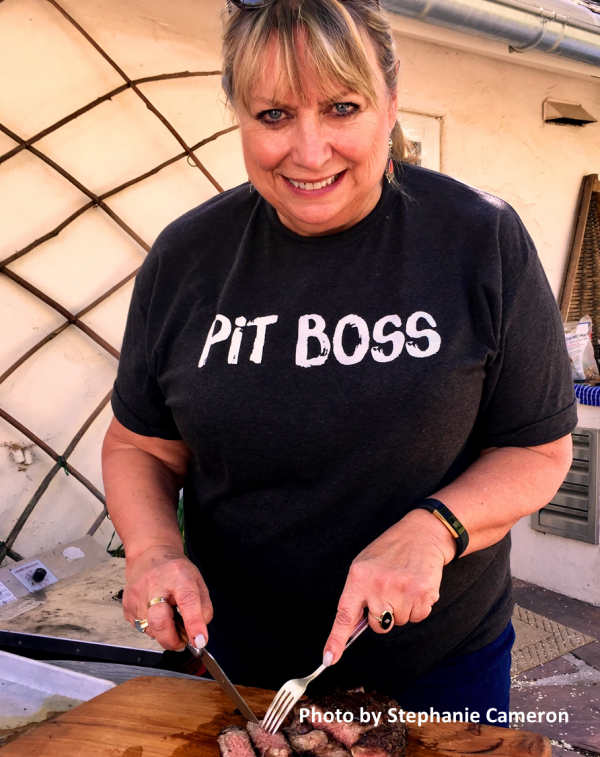 The Perfect Wood-grilled Rib Eye Steak
©2017 Cheryl Alters Jamison, Adapted From Born to Grill. Click to find this and Cheryl's complete collection of Exciting Cookbooks
Serves 4 to 6
---
Use a hard wood for grilling, perhaps oak, or a fruit wood, such as cherry, pecan, hickory, or mesquite. Avoid any kind of pine or cedar.
Basting Butter
Four 1 to 1¼-pound bone-in rib eye steaks, 1 to 1¼ inches thick, preferably prime grade
Kosher salt and coarsely ground black pepper
Basting Butter
4 tablespoons (½ stick) unsalted butter
1 teaspoons Worcestershire sauce
Pinch of kosher salt
---
About 30 minutes before you plan to grill the steaks, sprinkle each liberally with salt and pepper, including on the sides. Rub the seasonings into each
Combine the basting butter ingredients in a small pan or Reserve.
Fire up a grill with a wood fire. You will want enough of a fire that you can have a hot zone and a medium-heat zone for all of the steaks. Light the logs and let them burn down long enough to be covered with some ash, but still producing occasional leaping flames. This will probably take about 30 minutes, but keep an eye on the fire. Spread logs and coals as needed to start the steaks over the hottest part of the
Grill the steaks uncovered over high heat for about 3 minutes per side. Do not move the steaks or press on them. Tongs work well (Never use a fork!) When the 3 minutes per side are up, turn and move to medium heat, rotating the steaks 180 degrees to get crisscross grill marks. Continue grilling for about 3 minutes more per side for medium-rare doneness, or a bit longer. It's a terrible idea to cook a steak this fine any further than medium.
Transfer steaks to a platter or baking sheet. Baste each with a bit of butter immediately and then again after about 3 minutes. Move the steaks right away to individual plates, or to a cutting board to slice into more servings. Enjoy immediately!