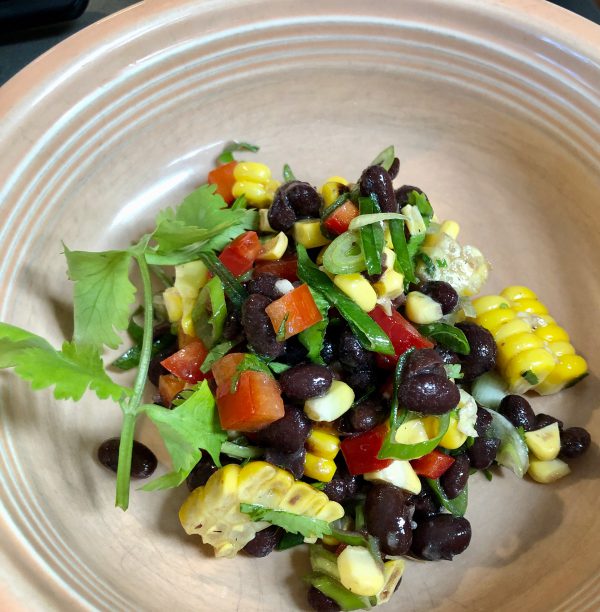 Black Bean and Roasted Corn Salad
From Perini Ranch Steakhouse: Stories and Recipes for Real Texas Food. When you need a salad that won't wilt in a steamy Texas July, this is always a good bet. It can also be served as salsa with tortillas or chips, or an eye-catching topper for a grilled chicken breast. The Perinis grill-roast in-season fresh ears of corn. then cut off the kernels and freeze them for use throughout the year at the Steakhouse.
---
Serves 8
Vinaigrette
2/3 cup vegetable oil
2 tablespoons white or apple cider vinegar
½ teaspoon Dijon mustard
½ teaspoon kosher salt
½ teaspoon freshly ground black pepper
Two 15.5-ounce cans black beans, rinsed and drained
3 ears roasted or otherwise cooked corn on the cob, kernels sliced off
1 red bell pepper, seeded and diced
1 cup thinly sliced green onions, white and green portions
2 garlic cloves, minced
1 tablespoon minced cilantro leaves, plus a few sprigs for garnish
---
Put the oil, vinegar, mustard, salt, and pepper in a bowl. Whisk until well combined.
Lightly toss the beans and corn together in a serving bowl. Stir in about three-quarters of the dressing along with the bell pepper, green onions, garlic, and 1 tablespoon cilantro leaves. Taste and add additional dressing, if desired. Refrigerate the salad for at least 30 minutes. Stir again before serving, garnished with the remaining cilantro.