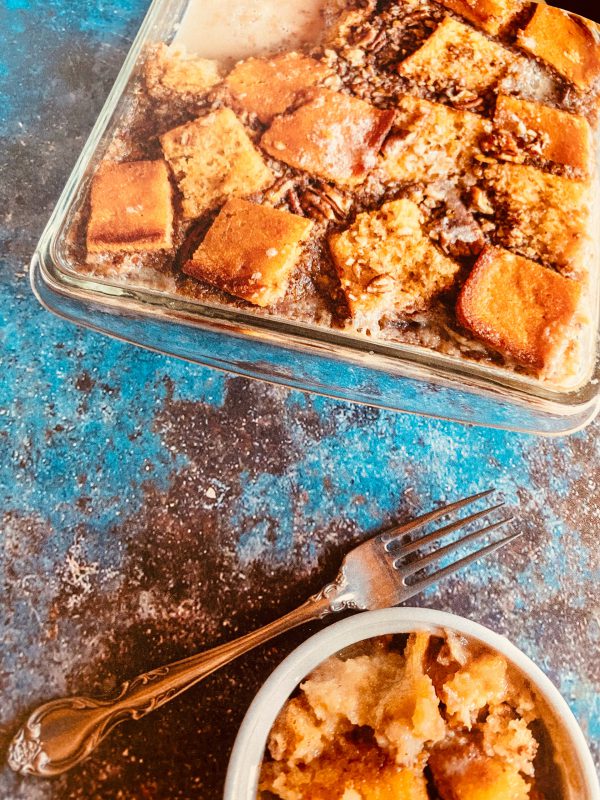 Evie Mae's Cornbread Pudding and Bourbon Sauce
From Texas Q. Here's a recipe from the best barbecue bastion out on the Llano Estacado, Evie Mae's Pit Barbeque, just outside of Lubbock in Wolfforth. Conveniently, it's on my way to just about everywhere I visit in Texas, and I can get there easily by lunch from my New Mexico home. It's a family operation for Arnis and Mallory Robbins, who named the restaurant after their daughter Evie Mae. This recipe and many others of theirs are gluten-free since Arnis has celiac disease.
---
Serves 8
3 generous cups cubed cornbread
2 cups sugar
2½ cups whole milk
2 large eggs
2 tablespoons pure vanilla extract
1 teaspoon ground cinnamon
1 cup pecan pieces
Bourbon Sauce
8 tablespoons (1 stick) salted butter
½ cup sugar
½ cup heavy whipping cream
3 tablespoons bourbon
---
1. Preheat the oven to 350°F. Grease a 9-inch-square baking dish.
2. Prepare the pudding. Place the cornbread in the baking dish. Combine the remaining pudding ingredients in a bowl, the pour the custardy mixture evenly over the cornbread. Push the cornbread down a bit so that every bit is moistened. Cover the pan and bake it for about 30 minutes. Uncover and continue baking for about 5 more minutes until the top is a browned in spots.
3. While the pudding bakes, prepare the whiskey sauce. Combine all of the sauce ingredients in a saucepan and warm over medium heat. Cook for about 5 minutes until butter is melted. Keep warm until the pudding is ready.
4. Spoon warm pudding into bowls. Give the sauce a good whisk and pour equal portions over each serving.