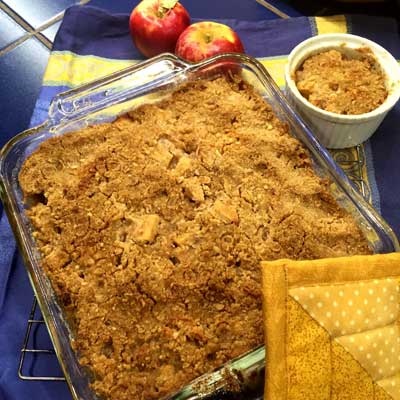 Want to know the recipe I return to time and time again? It's this, my mother Betty's classic crisp, which appeared in American Home Cooking.
Serves 6 to 8
---
3 pounds tart apples, such as Jonathan or Granny Smith
1 cup unbleached all-purpose flour
1 cup packed light brown sugar
1 teaspoon ground cinnamon
½ teaspoon salt
½ cup unsalted butter, cut in small chunks, well-chilled
---
Preheat the oven to 375º F. Butter an 8-inch baking dish.
Peel, core, and slice the apples into small chunks. Pile them into the prepared dish. Mix about 2 teaspoons of the flour with the apples.
Combine the remaining flour, brown sugar, cinnamon, and salt in a food processor and pulse to combine. Add the butter and pulse until the mixture becomes a crumbly meal. Spoon it over the apples evenly, packing it down lightly. Bake the crisp for about 30 minutes, until the topping is crunchy and the apples tender. Serve warm.