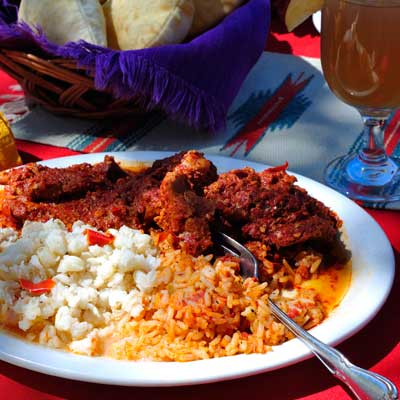 Want to spice up your life, New Mexican style? Then try carne adovada, a slow-cooked pork dish bathed in sauce made from the local red chile. You can order dried red chile from santafeschoolofcooking.com. This particular version comes from northern New Mexico's Restaurante Rancho de Chimayó, and is included in The Rancho de Chimayó Cookbook: 50th Anniversary Cookbook, a great resource for all classic northern New Mexican dishes. One of the most popular ways to enjoy carne adovada is in a burrito. Roll it in a fluffy white tortilla, top with some of the juice from the meat, and a healthy shower of grated Cheddar cheese. Pop in the oven briefly, just long enough to melt the cheese. Heaven!

Serves 6 to 8
---
Chile Sauce and Marinade
8 ounces (about 25) whole dried New Mexican red chile pods
4 cups water
1 tablespoon canola or vegetable oil
4 garlic cloves, minced
2 tablespoons diced yellow onion
1 tablespoon crushed chile pequin (dried hot New Mexican red chile flakes)
1 teaspoon garlic salt
½ teaspoon crumbled dried Mexico oregano
3 pounds thick boneless shoulder pork chops, trimmed of fat and cut into 1- to 2-inch cubes (if you plan to use the meat in burritos, cut it into the smaller size pieces.)
Shredded romaine or iceberg lettuce and diced tomato, optional
---
1. Warm the oil in a large saucepan over medium heat. Add the garlic and sauté until just golden. Immediately remove from the heat.

2. Break the stems off the chile pods and discard the seeds. It isn't necessary to get rid of every seed, but most should be removed. Place the chiles in a sink or large bowl, rinse them carefully, and drain.
3. Place the damp pods in one layer on a baking sheet and toast in the oven for about 5 minutes, watching carefully to avoid burning them. The chiles can have a little remaining moisture. Remove them from the oven and let cool. Break each chile into 2 or 3 pieces.
4. Purée in a blender half of the pods with 2 cups of the water. You will still be able to see tiny pieces of chile pulp, but they should be bound in a smooth thick liquid. Pour into the saucepan with the garlic. Repeat with the remaining pods and water.
5. Stir the remaining sauce ingredients into the chile sauce and bring to a boil over medium-high heat. Simmer for 30 minutes, stirring occasionally. The sauce will thicken, but should remain a little soupy. Remove from the heat. Cool to room temperature. Stir the pork into the chile sauce and refrigerate overnight.
6. The next day, preheat the oven to 300º F. Oil a large, covered baking dish.

7. Spoon carne adovada into the baking dish. Cover the dish and bake until the meat is completely tender and sauce has cooked down, about 3 hours. Stir once about half-way through. If the sauce remains watery after 3 hours, stir well again and cook uncovered for about 15 minutes more.
8. Serve hot, garnished with lettuce and tomato if you wish.