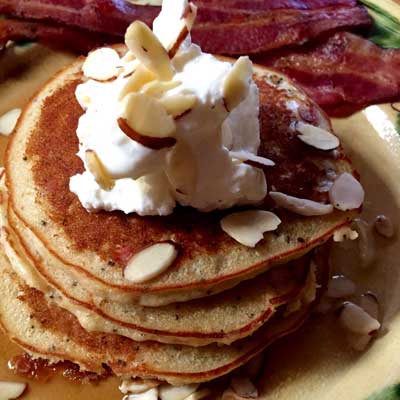 Apple-Poppyseed Buttermilk Pancakes with Almonds
Like many recipes, this one evolved from an ingredient I had on hand. As a part of a photo shoot for my radio show, Heating It Up, we used some fruit. I ate most of it over the next couple of days, but still had an apple on hand on Sunday morning, when I was thinking of a nice sit-down breakfast. I decided to shred it into my favorite buttermilk pancake recipe from A Real American Breakfast. The poppyseeds and almonds were in my pantry, and sounded good for crunch.
Serves 4 or more
---
Pancakes
1½ cups unbleached all-purpose flour
¼ cup stone-ground cornmeal
2 teaspoons poppyseeds
1 teaspoon baking soda
½ teaspoon salt
1 large tangy apple, such as Granny Smith, grated with its peel
2 tablespoons unsalted butter, melted
1 egg, separated
1¾ to 2 cups buttermilk
Vegetable oil for pan-frying
1 to 2 teaspoons bacon drippings, optional
Unsalted butter, softened
Plain yogurt
Maple syrup
---
Prepare the pancakes, stirring together the flour, cornmeal, poppyseeds, baking soda, and salt in a medium bowl, preferably one with a spout for pouring. Scatter apple over dry ingredients. Scrape in the melted butter, and stir the mixture until the apple is well-distributed and the butter disappears into the dry ingredients.
Beat the egg white until soft peaks form and reserve it.
In another bowl, whisk together the egg yolk with 1¾ cup of the buttermilk until frothy. Pour this into the dry ingredients and mix until well-combined. If the batter doesn't seem easily pourable, add up to the remaining ¼ cup of buttermilk. Fold the egg white into the batter.
Warm a griddle, preferably, or a large heavy skillet over medium heat. Pour a thin film of oil on the griddle. If you wish, add ¼ to ½ teaspoon of bacon drippings to the oil for a heartier flavor. Pour or spoon out the batter onto the hot griddle, where it should sizzle and hiss. A generous 3 tablespoons of batter will make a 4-inch pancake. Make as many cakes at a time as you can fit on the surface without crowding.
Flip the pancakes just once, after 1 to 2 minutes when their top surface is covered with tiny bubbles but before all the bubbles pop. The pancakes are done when the second side is golden-brown, an additional 1 to 2 minutes. Repeat with the remaining batter, adding a bit more oil and optional bacon drippings to the griddle as needed.
Serve immediately with butter, dollops of yogurt and a scattering of almonds. Pass maple syrup and serve.